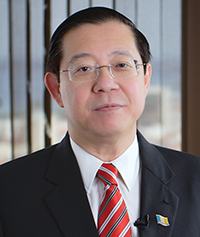 It is my great pleasure to welcome you to Penang for the second edition of the BE @ Penang industry conference.
The BE @ Penang conference is the first-of-its-kind business events industry conference organised in Penang. This homegrown conference is produced by the Penang Convention & Exhibition Bureau (PCEB), which was incorporated by the Penang State Government in 2016 to strengthen and develop the existing business events industry.
Last year, PCEB organised the first edition of the BE @ Penang industry conference at The Wembley, Penang. Over 120 delegates from the Penang business events industry attended the conference, along with those based in Kuala Lumpur, Johor and Singapore who were actively involved in hosting and organising business events in Penang.
BE @ Penang 2017 is themed BE EMPOWERED, following last year's theme of BE ENGAGED. During last year's conference, the delegates stepped forward to the call to form Team Penang. This year, the conference aims to encourage the industry players to communicate, collaborate, and conquer businesses for Penang. As members of Team Penang, PCEB wants them to be empowered in sourcing for leads, and collaborate on bidding and winning the bids for Penang.
Moreover, Penang now boasts the world's first hybrid solar powered convention centre, which will lead the way in sustainable practices for the business events industry. The RM350 million SPICE project that includes both the Setia SPICE Convention Centre and the SPICE Arena has, in 2017, hosted corporate conventions of up to 15,000 international delegates.
The future for business events in Penang is looking positive, and Penang is fast rising as a key second tier destination in the region. With a unified business events industry, Penang as a state would stand to benefit from the economic impact of business events.
I wish the delegates of BE @ Penang 2017 many Experiences Unfiltered, and I hope that you find the conference engaging and empowering. I thank you for your support towards driving the business events industry in Penang to greater heights.
BE @ Penang. BE Empowered.
Thank you.
LIM GUAN ENG
Chief Minister of Penang